News Round-Up - Summer 2012
The last 6 months has felt longer than that. In that time our total downloads have massively increased in a market that has also grown substantially larger. The most obvious qualitative change in this market for us has been the rise of the tablet, which has increased from 2% of our Android app downloads to now nearer 6%. Of these Android 3.X, which might have been in serial decline, still accounts for 4.5% of all our downloads (up from 2%), despite the competition from mobiles and from Android 4.X. The emergence of the tablet has necessitated much extra re-work of our apps to accommodate this. As things go we hope that the convergence of mobile and tablet OS to 4.X will make future cross-device support much easier.
In consequence of this retro-fit of tablet and 4.X support we have only managed to release one new product, Gin Rummy. This was also a challenge as the rules are complex enough to demand much more from the UI than (say) Hearts. This product has already nearly 500,000 installs so has a solid user base that is rapidly growing. It also has a pretty solid rating of 4.47.
The last 6 months has also had our added involvement with the research project UCT for Games and Beyond. We have been working with them to research the promising AI domain that may well dominate many areas of AI in the future. UCT-based MCTS (Monte Carlo Tree Search) has shown that it can solve extremely hard problem domains and offers a flexibility that other techniques do not. This will feed back into our games and is expected to form the basis for most of our new AI-based games. The research group at York are currently publishing work, based on our game engines. They are also competing in competitions using these techniques, including the 2012 PTSP (physical travelling salesman problem) Competition they won. This was a solid affirmation of the method (see below). This classic problem combined the shortest path through a linked graph problem with physics, so that momentum needed to be factored into the analysis. This is an escalation of what was already a complex problem.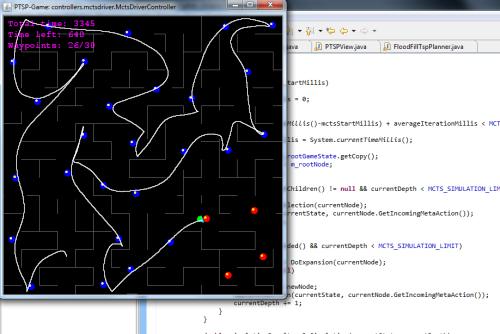 As ever we attended GDC San Francisco, but this time 66% of the company attended instead of the usual 33%. Although, of course, we were sounding out opportunities as they were presented, our main purpose was to touch base with our existing clients and to keep aware of any shifts in the current gaming zeitgeist. These events, with some 9 different lecture tracks and as high a density of people in the industry as could be mustered anywhere, offered a good chance to swap ideas and find out what was going on. If you are lucky you can pick up on some major game-changing input but mostly it is the drip drip of ideas that collectively adjust your appreciation of the overall state of the industry. Of course we are looking for pearls of wisdom to help guide the major direction of the company and show us where we would most beneficially make changes. One message, repeated across several presentations, was the increasing consumer desire to customise their games. We already provide something there, but have since shifted to increase this option. We offer alternative backgrounds and piece skins, but realise we could do more. The other input from these events is also to simply sit back and admire the work of others, with "Dear Escher" and "The Journey" particularly catching our attention. We were lucky to have some hands-on preview of "Haunted Planet" AKA "Pirate Ghost Hunt" in other versions, which turns your handset into a convincing ghost detector. We whiled away a pleasant evening in a Jazz bar close to Union square, checking out the place with a beta version for manifestations. This app is eerily convincing and well on top of the technical issues, with ghosts that lock into the scenery rather than jumping around a disconnected video view.

We continue to work closely with MoPub, Admob and Millennial Media, who form the primary core of our revenue. The landscape for this is ever evolving so we need to continuously review what we are doing to make sure that we do not fail to make the best use of these services. This has a management overhead as the ad industry is a bit of a Wild West so, with support from the services above, we need to vigilantly police the ad traffic we see. With so much infra-structure complexity all manner of issues can arise, either from some occasional crippling performance issues, caused by certain types of ads on certain devices, through to advertisers misusing the service by posting (adult) ads in the wrong categories to bypass filters. Finally we even had to contend with an ad server hijack, that substituted "bad" ads for legitimate paid ones. This holds our attention as, with millions of play sessions per day, any issue may hit vast numbers of users at the same time, so we have to be fleet of foot to quickly deal with issues before they escalate into any major PR disaster. Of course, many thanks to the companies above who fight alongside us to control these unruly elements of in-app ads.
We are currently actively working with Blit on a significant and exciting multi-game project: watch this space!
Summer 2012
---
Quarterly Round-Up - Summer 2005