The 17th CSA World Computer Shogi Championships:
Kazusa Academic Park, Kisarazu, Japan
May 3-5, 2007
Author: Reijer Grimbergen
Reijer is a lecturer at the Department of Informatics at Yamagata University and the author of the shogi program SPEAR, developed over the last 10 years and currently in its third re-write. In this time he has also been connected with the development of AI Factory's Shogi engine Shotest, as these two programs have been developed in parallel. Reijer is now directly contributing to our latest Shogi program, due for market later this year.
---
This was the 11th time I was going to participate in the CSA World Computer Shogi Championships, but in the build-up to the tournament it very much felt like the first time. After the terrible result of last year (only 3 wins from 9 games), I had lost my seeded position and had to start again from the bottom of the pecking order: the first preliminary round. Moreover, the bad result had finally convinced me that my old program was beyond repair. After sulking for a couple of months, I threw away my old program and started from scratch.
The summer of 2006 was spent with rebuilding Spear using bitboards instead of attack tables. I found out that the 2006 CSA champion Bonanza was also using bitboards and this method of representing shogi knowledge, which is being used extensively in chess programs, turned out to work well in shogi as well. In August 2006, the first working version of Spear was finished and even though I have been improving the bitboard implementation until December, a playing program was ready for the GPW Cup during the Game Programming Workshop in November. This program hardly had an evaluation function, so it didn't play very impressive shogi, but the speed improvement over last year's program was impressive.
Unfortunately I was unable to add learning to the program, another major contribution by Bonanza. Most of the winter was spent on tuning a very simple evaluation function. An intermediate version almost beat Kakinoki Shogi in an Internet tournament in February, indicating that the program was heading in the right direction.
My old tsume shogi solver had become useless because of the new data structures, so March and April were spent with adding a new tsume shogi solver to the program and further tuning of the evaluation function. Spear was now ready to be tested against other programs. This immediately showed that Spear would not make an impact like Bonanza last year. It could only win about 10% of the games against Bonanza, Todai Shogi or Gekisashi. I therefore focussed on playing different programs like K-Shogi and Shotest. I exchanged a lot of E-mails and program versions with Shotest programmer Jeff Rollason in the weeks before the tournament and it was clear that our programs would be very close in strength. The realistic aim seemed to be qualifying for the second day and regaining the seeded position I had lost last year (a top 16 finish in the second qualification round).
As for the other programs, it was a pity that KCC did not participate. On the other hand, it would be very interesting to see how Bonanza would do in its second year (this time with Hoki present!) and of course Tanase's new program was expected to make some waves.
The First Preliminary Stage
In this year's tournament there was an important change in the rules. Up until now, the tournament was played by connecting the two computers by serial cable. This required physically moving sometimes very heavy computers between the rounds to get within connection range. Because higher seeded programs could stay where they were, this often lead to the comical situation of a player with a laptop quietly waiting until his opponent had finished unplugging and setting up his huge desktop machine.
This year all programs were required to have the ability to connect to a central LAN server and send moves to and receive moves from this server. All that was needed was to plug into a nearby LAN socket and the games could be started between any two computers connected to the server. No more lumbering around of equipment and even more importantly, it was now possible to automatically show all ongoing games on the Internet.
There were almost no problems with the new system and it is very convenient, both for the participants and the audience around the world. Therefore, this is not likely to be changed. Still, I will miss chatting about the game with my opponent. Instead of always sitting next to each other, it is now possible that your opponent is at the other end of the large tournament hall.

This year again the hardware came in all sizes.
The first round of the first preliminary started very late and there were two people nervously pacing the room: Tanase and me. It has been a long time since I felt this much pressure at the CSA tournament and Tanase must have felt the same. In the first preliminary stage there is nothing much to gain, but a lot to lose. Because the seeded Shore had to pull out of the tournament at the last instant, there were actually nine spots available for the second round. With only 22 programs in this first round, that shouldn't be so hard, right? The pressure was on!
I was also a little bit anxious about my opponent in the first round. Ayamari Shogi was a first year entry, but in the Internet test tournament just a few weeks before the tournament it had played rather well, so I did not think this was a pushover. Fortunately for my nerves, Ayamari Shogi messed up the opening and things were never complicated. In all, the first four rounds went rather smoothly. All my opponents made early mistakes and Spear was never really in trouble. However, the 5th round was going to be different as I would play Tanase's new program, which was also unbeaten. A strange game where Spear's rook easily broke through early, but there was no good continuation against Tanase Shogi's strong anaguma castle. Things went downhill from there and just as I was preparing to be mated, there was some network problem and my program ended the game. The server log seemed to indicate that my program was to blame and even though I was unable to locate the source of the problem, the game was lost anyway, so I resigned.
Four points out of five games was supposed to be enough to qualify, but to be 100% sure I wanted to win my fifth game as soon as possible. The 6th round was a perfect opportunity not only to get my 5th win but also to take revenge, because I was playing My Move, a program that had beaten me in last year's tournament (thus sending me down to this preliminary round) and also had beaten me at the Game Programming Workshop tournament. However, again My Move was giving Spear a lot of trouble. Spear seemed to have strong attack early on, but My Move didn't fold and Spear's attack fizzled out. The counter attack by My Move was unstoppable, but needed one important move to make sure that the king didn't escape. My Move didn't play that move, the king found a safe haven and in time trouble My Move's position collapsed.
Much more shaky than I had hoped, but there was the fifth point, making sure that I would be there on the second day as well. My final opponent was also interesting, because it was the new program Tomi that had already created a little buzz before the tournament as being a very strong first year entry. Not as strong as Bonanza, but strong enough to give Tanase Shogi some anxious moments in the third round. It turned out that Tomi was indeed a very strong program. Spear was having some problems in the opening and Tomi got a big advantage. However, Spear managed to create a stronghold near the enemy king and attack from there, finally winning the game. This may have been the first time and the last time Spear has beaten Tomi, as this program could be making a big leap in the coming year.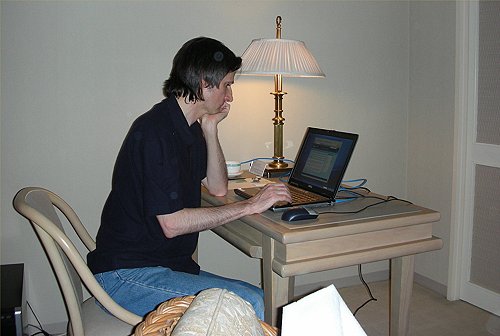 Jeff preparing in the hotel room.
Mission accomplished with a comfortable looking score of 6 wins and 1 loss and unshared second place. Not all of the wins were convincing, but it was clear that it would take a strong program to beat Spear. Furthermore, it was satisfying to know that Spear played 6 programs who also qualified for the second day and lost only one of them. Considering that there were some beatable programs that were seeded, I was pretty confident that I would be able to get a seeded position.
I was reasonably happy with how my program had played on the first day, although I thought it used a little too much time for futile moves. So the only thing I changed on the evening of the first day was the time control. Tweaking some parameters should make Spear a little faster. This immediately paid off on the second day.
Results of the first qualification round

No.   Program Name            1   2   3   4   5   6   7   Pt   SOS  SB   MD 
  1*  Tanase Shogi           21+ 18+  3+  4+  2+  7+  8+  7.0 27.0 27.0 20.0
  2*  SPEAR                   5+ 14+ 13+  6+  1-  4+  3+  6.0 32.0 25.0 17.0
  3*  Tomi                    8+  7+  1- 12+ 10+  9+  2-  5.0 32.5 19.5 12.0
  4*  My Move                14+ 15+  9+  1- 13+  2- 11+  5.0 29.5 16.5  9.5
  5*  Ayamari Shogi           2-  6- 17+ 15+ 11+ 13+  7+  5.0 26.5 16.5  9.5
  6*  God Shogi              15+  5+ 11-  2- 12+  8- 16+  4.0 28.0 14.5  6.5
  7*  Misaki                 20+  3- 12+ 22+  8+  1-  5-  4.0 26.5  9.5  5.0
  8*  Mattari-Yuuchan         3- 20+ 21+ 11+  7-  6+  1-  4.0 26.0 10.0  5.0
  9*  Auau Shogi             18+ 21+  4- 13- 14+  3- 15+  4.0 22.0  9.0  5.0
 10   Narikin Shogi          22= 11= 20= 16+  3- 12= 13+  4.0 20.0  6.0  0.0
 11   Yamada Shogi           16+ 10=  6+  8-  5- 19+  4-  3.5 27.0  9.0  3.0
 12   Kamepyon               19+ 17+  7-  3-  6- 10= 18+  3.5 24.0  7.0  2.0
 13   Oki                    17+ 19+  2-  9+  4-  5- 10-  3.0 29.0  9.0  3.0
 14   Ayaka                   4-  2- 18+ 19+  9- 16- 20+  3.0 23.5  5.5  2.0
 15   Hayabusa                6-  4- 16+  5- 22+ 20+  9-  3.0 23.0  5.0  1.5
 16   Yumeki                 11- 22+ 15- 10- 20+ 14+  6-  3.0 19.5  5.0  1.5
 17   TSP                    13- 12-  5- 18- 21+ 22+ 19+  3.0 17.0  3.5  1.0
 18   Shallow Thoughts        9-  1- 14- 17+ 19- 21+ 12-  2.0 23.5  4.0  0.0
 19   Daemon Shogi           12- 13- 22+ 14- 18+ 11- 17-  2.0 18.5  2.5  0.0
 20   HIT-Shogi + SS ver.0.41 7-  8- 10= 21+ 16- 15- 14-  1.5 22.0  1.0  0.0
 21   Gasho!!                 1-  9-  8- 20- 17- 18- 22+  1.0 22.0  0.5  0.0
 22   Tsubakihara Shogi      10= 16- 19-  7- 15- 17- 21-  0.5 20.0  0.0  0.0

* Tanase Shogi, SPEAR, Tomi, My Move, Ayamari Shogi, God Shogi, Misaki,
Mattari-Yuuchan and Auau Shogi qualify for the second qualification round.

The Second Preliminary Stage
More important than winning, I came to the tournament hall on the second day to enjoy the day. As said, the first day I had felt a lot of pressure, but this was gone on the second day. Jeff, who could only provide mental support on the first day, was now playing himself, which adds to the experience (Conversations like: "How are you doing?" "The program seems happy, how about you?", "Abysmal, but the program doesn't know that yet").
My first round game against Kinoa Shogi was a game I will never forget. It was an epic battle, with Spear having the early advantage without finding a way to break through. Then Kinoa took over and Spear was losing, but somehow managed to escape up the board. Even though Spear had a safe entering king, Kinoa Shogi had taken almost all of its pieces, so it would be almost impossible to win the game. I even decided to resign at some point but Kinoa Shogi's operator Yamada convinced me to play on. This turned out to be very good advice, because Kinoa Shogi made some mistakes in defence and suddenly Spear had a strong attack with the pieces it was given. However, this attack was not strong enough and Kinoa Shogi's king also escaped up the board.
We were now nearing the 300 move mark and even though Spear had been behind on time for most of the game, the new time control is working and the time difference between Spear and Kinoa gets smaller and smaller. Still, Spear is way behind in material and if Kinoa can get an entering king and puts enough of its pieces in the promotion zone, it can claim a win according to the tournament rules. Jeff and I had been discussing this because in a test game between Shotest and Spear the mutual entering king problem occurrred. We had both implemented the win claim after that, but Yamada said he didn't have the time to implement this. This meant that the game would be decided by who would run out of time fastest and thanks to my improved time control, Spear played faster than Kinoa Shogi, which lost on time at move 489 in the position below. As can be seen in the picture, the time difference is only 20 seconds!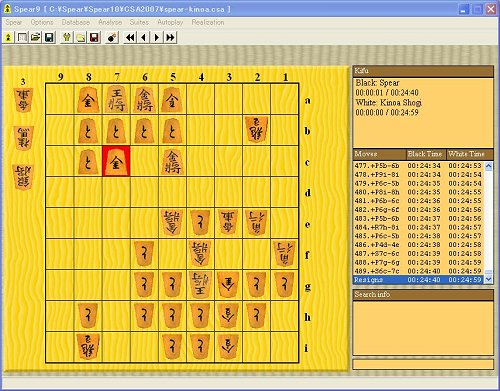 Spear-Kinoa Shogi: an incredible game!
All other games had already been finished, so this game was the centre of attention and I couldn't help raising my arms in triumph when the server sent the message that Kinoa Shogi had lost on time. An epic battle and I can only thank my opponent for stopping me from resigning the game when things looked hopeless. An important lesson: in a game between computers, never resign!
Jeff's first round with Nazoteki Denki was not as easy as it might have been. The switchover to LAN protocol had meant that this was added only a couple of weeks before the tournament, but on arriving it was clear that this was not totally complete. Shotest could play a complete LAN game, but had no provision for re-starting an interrupted game. This was added the night before, mixing jetlag and programming, which is not recommended. When the game started Jeff noticed to his dismay that all parameter settings were set to zero, in which case tuning was missing. This impacted both evaluation and time control, so that the first game was somewhat at risk. Shotest has never lost to Nazoteki Denki, and Jeff was keen not to make this the exception! As it happens, Shotest quickly gained the upper hand, but Jeff realised that if Shotest dithered in turning advantage into win, then there was the danger of a time control loss. After an uncomfortable watch, Shotest completed the task and a relieved Jeff immediately got programming to fix this for the next round.
After this successful first round for Spear and Shotest, our respective opponents were very different. I would play Ayamari Shogi again, while Shotest had to face Gekisashi. Both games went as expected, with Spear having a little more trouble with Ayamari Shogi than the day before, but Shotest didn't have much chance against Gekisashi.
Two wins from two games! I was starting to like this. I felt good enough to make a joke like in the picture below. Of course, I didn't think that I would lose all my games from the third round on, but keeping the winning streak going would be difficult with the next opponent: Gekisashi.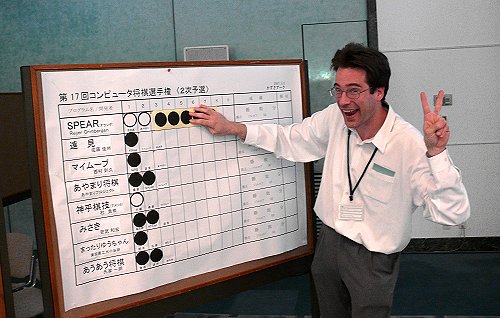 Definitely expecting that things will go downhill from here.
Round three and four put things a little in perspective for Shotest and Spear. Spear started well against Gekisashi, but lost. It was a little disturbing that the same network problem as in the game against Tanase Shogi occurrred, but also against Gekisashi the game was already over when this happened, so I could safely resign. Still, I was unable to find the problem, which meant that it could happen again at a more important moment, which was unsettling. I had been playing more than 100 games using the LAN connection (I already implemented this in 2004) and this problem had never occurred. Fortunately, the bug didn't appear again. In round four Spear lost quite easily against Kakinoki Shogi, which was a little disappointing after being so close in February.
Shotest fared worse with losses against Tanase Shogi and Tomi, which meant that with a 1-3 start it better get some points or its seeded position would be in danger. At the top of the table, the usual suspects Gekisashi, Kakinoki Shogi, Bingo Shogi and Tanase Shogi had won all their games, but GPS Shogi (a favourite to qualify) had already lost three games (against K-Shogi, Bingo Shogi and Otsuki Shogi) and seemed to be out of the race.
The biggest losers of the tournament: Kakinoki Shogi and GPS Shogi. They will be back for revenge!
In rounds five and six Spear broke out of the prediction in the picture by winning two good games against Nara Shogi and Usapyon. I was especially happy with the win against Nara Shogi, a program which I always considered one step above Spear. In that game Spear attacked a little prematurely, but Nara Shogi made an important mistake in defence and lost. Against Usapyon the situation was more or less the other way around. Usapyon played a dubious attack that never really worked. Spear escaped and then had a lot of material. It took a while before Spear had found the right attack against the Usapyon king, but the game was never in doubt.
Shotest had mixed success: It faced Wildcat, which it beat in 2006. Being already 1:3 down, Shotest could only afford an absolute maximum of 2 losses from the remaining 5 games if it was to improve its ranking. Wildcat moved immediately into an anaguma, the strongest of all protective castles, and then seemed happy to just sit there waiting. Wildcat's bishop shuttled between 5a and 6b, while Shotest experimented with various dubious castles, eventually copying Wildcat with an incomplete version of the anaguma. After further dithering, Shotest eventually launched an attack and Wildcat just slowly conceded position offering little resistance. This was a comfortable game to watch!
GPS-Shogi was a different matter: This is a program that came close to qualifying to the final round last year, and whom Shotest lost to then. It seemed an opponent that might succumb, but Shotest played a couple of strange moves, including one where a rook was moved without promotion. GPS-Shogi got the upper hand and Shotest moved to an uncomfortable 2:4 position.
Rounds seven and eight showed a come-back by Shotest and a setback by Spear. Shotest won both against Auau Shogi (arguably the weakest program on this second day) and against God Shogi, another program from the first day that had given Tanase Shogi a major scare in the second round. If God Shogi would have had a mate solver, it would have beaten Tanase Shogi.. In 2006 this program only ranked 39th, but had clearly made substantial advances. Against Shotest, God Shogi conceded early advantage but later made strong plays that seemed to put this game back into the balance. In the end Shotest was just ahead in the race to mate.
Spear lost both games. The loss against Dragon's Egg was kind of expected, because this program has been a multiple finalist. However, the loss against Wildcat was disappointing and showed that Spear still needs a lot of improvement. Wildcat is not a bad program, but opening the game when the opponent has the very strong anaguma castle is unwise and Spear never was able to recover. Well, Spear had run its luck for a while in this tournament, so it is hard to complain about this game.
At the top of the table, Gekishashi had extended its winning streak to eight games, followed by Tanase Shogi with one point less. Bingo Shogi also seemed certain to qualify with six points. The question was which two programs would join them. Kakinoki Shogi's perfect start was all but a memory after three consecutive losses and the program was suddenly in grave danger, needing a win in the final round to qualify. The other programs with five points were Dragon's Egg, K-Shogi, GPS Shogi (winning its fourth game in a row) and Otsuki Shogi (which recovered from a shocking first round defeat against God Shogi). I couldn't help thinking that a win against Wildcat would have put me straight in the middle of this, but considering the level of play by Spear, this would hardly have been fitting company.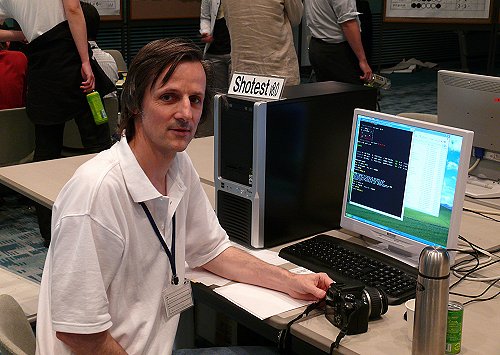 Shotest: Finally lower in the standings than Spear! (but only by a whisker...)
The final round put Spear against a beatable opponent in Mattari-Yuchan. Spear overplayed the attack, but Mattari-Yuchan was not strong enough to keep defending accurately. The phantom attack slowly became a real attack and Spear won the game, getting the majority of wins and the seeded position I had aimed for. In the end, Spear ended in 9th place, which was its highest finish ever.
Shotest also won, ending the tournament on a high with three straight wins, giving 5 wins and 4 losses. Shotest had some benefit from the forgiving Swiss system format, which pairs losing programs with weaker opponents. However 2 of these 4 losses were against programs that finished 1st and 2nd in this round, and that went on to be 2nd and 3rd overall, so Shotest had some tough opposition. Net this resulted in an 11th place, which meant that Spear ended higher than Shotest for the first time! It is indeed getting closer every year. Jeff's goal had been to get 5 wins and 4 losses to improve on the previous year's 4 wins and 5 losses, with an outside chance of 6 wins and 3 losses. Given the shaky start he was very happy to secure the 5:4 win. Shotest moved up 2 ranking places.
At the top of the table, the drama became complete for Kakinoki Shogi, which lost its final game against K-Shogi. Because of this, K-Shogi qualified for the finals for the first time. K-Shogi was joined by Dragon's Egg, which beat Otsuki Shogi. The two final qualifying programs were decided by beating their rivals for a final spot, so for the first time in years there was no discussion about the pairing system. All programs with 6 points or more qualified for the final.
Results of the second qualification round

No. Program Name         1   2   3   4   5   6   7   8   9   Pt   SOS  SB   MD 
  1*    Gekisashi       24+ 11+  9+ 10+  2+  6+  3+  4+  7+  9.0 45.0 45.0 37.0
  2*    Tanase Shogi    12+ 18+ 11+  4+  1-  8+  6+  5+  3+  8.0 51.0 42.0 32.0
  3*    Bingo Shogi     13+ 15+  7+  5+  6-  4+  1- 12+  2-  6.0 52.5 30.5 20.5
  4*    Dragon's Egg    20+ 16+  5+  2- 14+  3-  9+  1-  8+  6.0 50.0 27.0 18.0
  5*    K-Shogi         14+  7+  4-  3- 10+ 15+  8+  2-  6+  6.0 48.0 28.0 19.0
  6     Kakinoki Shogi  21+ 17+ 10+  9+  3+  1-  2-  8-  5-  5.0 51.0 23.0 14.0
  7     GPS Shogi       19+  5-  3-  8- 20+ 11+ 15+ 10+  1-  5.0 47.0 21.0 13.0
  8     Otsuki Shogi    18- 12+ 22+  7+ 17+  2-  5-  6+  4-  5.0 45.0 21.0 14.0
  9     SPEAR           15+ 13+  1-  6- 12+ 17+  4- 16- 21+  5.0 44.5 20.5 12.5
 10     KFEnd           16+ 20+  6-  1-  5- 19+ 14+  7- 17+  5.0 44.0 19.0 12.0
 11     Shotest         23+  1-  2- 14- 16+  7- 24+ 18+ 15+  5.0 39.5 13.5  9.5
 12     Nara Shogi       2-  8- 23+ 24+  9- 13+ 17+  3- 16+  5.0 38.0 14.0  9.5
 13     Ayamari Shogi    3-  9- 19+ 16= 23+ 12- 21+ 15- 20+  4.5 35.5 11.5  6.0
 14     Tomi             5- 19+ 20- 11+  4- 18+ 10- 17- 22+  4.0 39.0 15.0  8.0
 15     Kinoa Shogi      9-  3- 24+ 21+ 18+  5-  7- 13+ 11-  4.0 38.5 11.5  7.0
 16     WILDCAT         10-  4- 21+ 13= 11- 23= 22+  9+ 12-  4.0 37.0 10.0  3.0
 17     Usapyon         22+  6- 18+ 23+  8-  9- 12- 14+ 10-  4.0 36.5 11.5  6.0
 18     God Shogi        8+  2- 17- 22+ 15- 14- 19+ 11- 24+  4.0 36.0 11.0  6.0
 19     My Move          7- 14- 13- 20+ 22+ 10- 18- 24+ 23+  4.0 29.0  6.5  3.5
 20     Misaki           4- 10- 14+ 19-  7- 21- 23+ 22+ 13-  3.0 35.0  7.5  2.0
 21     Mattari-Yuuchan  6- 22- 16- 15- 24+ 20+ 13- 23+  9-  3.0 29.0  4.5  1.5
 22     Garyu           17- 21+  8- 18- 19- 24+ 16- 20- 14-  2.0 31.0  3.0  0.0
 23     Nazoteki Denki  11- 24+ 12- 17- 13- 16= 20- 21- 19-  1.5 32.5  0.0  0.0
 24     Auau Shogi       1- 23- 15- 12- 21- 22- 11- 19- 18-  0.0 37.5  0.0  0.0

* Gekisashi, Tanase Shogi, Bingo Shogi, Dragon's Egg and K-Shogi qualify 
for the finals.

The Finals
Before the tournament, Gekisashi was generally considered to be the odds-on favourite. Winning all its games in the second preliminary round (the last program to do so was YSS in 1999) just strengthened this belief. Bonanza would also have a good shot at defending its crown and YSS always is right there until the end. It would be hard to put money on Tanase Shogi in its first year and the other programs were expected to make less impact.
The biggest result of the first round was that Tanase Shogi beat Bonanza. This shifted the momentum immediately from Bonanza to Tanase Shogi. The second round was uneventful, but in the third round Tanase Shogi also beat Gekisashi and now Tanase Shogi was suddenly the heavy favourite. YSS had also won its first three games, but had a much tougher schedule ahead.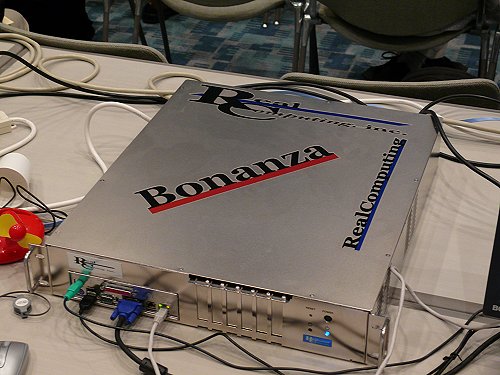 Bonanza having much more impressive hardware than last year, but...
In round 4 YSS lost against Gekisashi and Tanase beat Dragon's Egg, so now Tanase Shogi was the only unbeaten program with Bonanza, YSS and Gekisashi all on three points. More importantly, Tanase Shogi's only remaining difficult opponent seemed to be YSS, so a scenario like Bonanza last year suddenly seemed very likely.
The game between YSS and Tanase Shogi was a great fight, showing all the strengths and weaknesses of the current computer shogi programs (see the game below). Both programs seemed to be ahead at some point, but neither was able to place the final blow and in the endgame things were too close to call. The end was very exciting as Tanase Shogi seemed to play the winning move, but after that the game was over in a flash with YSS the winner! It seemed that Tanase didn't have time to put a proper tsume shogi solver in his program and what looked like the winning move actually overlooked a rather simple mate by YSS. Even more painful than this was that instead of the move that looked winning, there was a long mate in the position that would have given Tanase Shogi the victory. It was quite a difficult mate, but the tsume shogi solver in Tanase's old program found it in 1.2 seconds! A tough loss and now YSS was suddenly half a step ahead.
In the 6th round Gekisashi dropped out of the race with a loss against Bonanza. YSS beat TACOS and Tanase Shogi didn't have much problem with K-Shogi. So with one round to play, there were still three possible winners: if YSS would beat Bonanza, YSS would win the tournament. If Bonanza would beat YSS and Tanase Shogi would win, Tanase Shogi would take first place. Bonanza could only claim a consecutive crown if it would win against YSS and Tanase Shogi would lose against Bingo Shogi.

YSS's hardware.
Some network trouble with YSS delayed the start of the game against Bonanza by some twenty minutes. When the game finally started, Tanase Shogi already had a solid advantage against Bingo Shogi. Tanase Shogi converted this quite comfortably, which meant that Bonanza no longer had a chance to win the tournament. Fortunately, these are games between computers, so Bonanza did not lose interest in the game because of this.
The game between YSS and Bonanza was quite complex. Bonanza was attacking strongly, but it was unclear if the attack was strong enough. YSS's king was drawn out in the middle of the board, but there never seemed to be a clear knock-out punch. In the end YSS found some good moves to weaken Bonanza's anaguma castle, despite the king still being very exposed. With the exposed king actually helping the attack, YSS won the game and the title. It was Yamashita's third championship victory (YSS also won in and 1997 and 2004).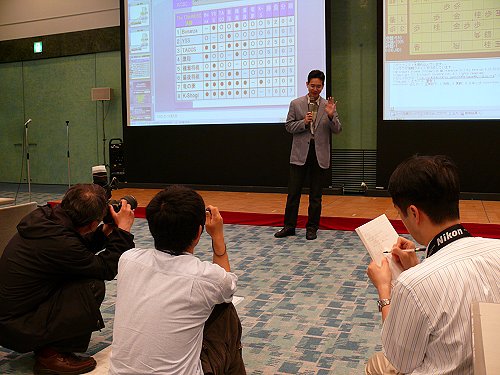 YSS's Yamashita during his victory speech.
Results of the finals

No. Program Name         1   2   3   4   5   6   7   Pt   SOS  SB   MD 
  1     YSS              7+  8+  5+  3-  2+  6+  4+  6.0 22.0 17.0 11.0
  2     Tanase Shogi     4+  6+  3+  8+  1-  7+  5+  6.0 22.0 16.0 11.0
  3     Gekisashi        5+  7+  2-  1+  8+  4-  6+  5.0 23.0 12.0  6.0
  4     Bonanza          2-  5+  8+  7+  6+  3+  1-  5.0 23.0 11.0  6.0
  5     Bingo Shogi      3-  4-  1-  6+  7+  8+  2-  3.0 25.0  3.0  1.0
  6     TACOS            8+  2-  7+  5-  4-  1-  3-  2.0 26.0  1.0  0.0
  7     K-Shogi          1-  3-  6-  4-  5-  2-  8+  1.0 27.0  0.0  0.0
  8     Dragon's Egg     6-  1-  4-  2-  3-  5-  7-  0.0 28.0  0.0  0.0

After the final round was finished, YSS played a game against Kato Yukio, who is one of the strongest amateur players in Japan. I feared embarrassment, as the general opinion among programmers is that YSS plays stronger against computers than against humans. However, after being overrun in the early middle game, YSS fought back and almost managed to turn the tables. Kato had it relatively easy against Bonanza last year, but he admitted after the game that this had been very difficult and that he was very happy that he had won. Considering this, I wonder if he is willing to play the winner of next year's tournament as well.
Conclusions
With KCC out and Tanase Shogi in, there was again a top four that was much stronger than the rest. YSS, Tanase Shogi, Gekisashi and Bonanza only lost against each other. The other programs in the final had no significant impact at all and were only decoration. Four seeded programs instead of three would have been more natural in this situation. Now Bonanza gets the honour of stomping the rest in the second preliminary round next year.
Last year Gekisashi probably should have won and this year Tanase Shogi could point at one unlucky moment that changed the outcome of this tournament. However, if everything would go as planned, there would be not much to talk or write about in computer tournaments. YSS is a very good winner and my general impression of "mechanical play" may be just something left over from the past. Not only did it play well against Kato, after the tournament YSS played 52 games on Shogi Club 24 and finished with a stunningly high rating of 2744 points! (BTW, before the game against Watanabe, Bonanza was rumoured to have past the 2800 mark, but there are no details about this).
YSS is a deserving champion and it is a pity that the Yomiuri Shimbun has decided that computer programs have become too strong to invite one to play in the Amateur Ryu-O tournament like Gekisashi did two years ago. As a kind of compensation, the chairman of the Japanese Shogi Federation Yonenaga Kunio was at the tournament and in his speech on the final day he told us that there will again be a match between the top computer program and a professional next year. It was great news to hear that the game between Watanabe and Bonanza will not be a one-time thing. It will take a couple of more years before the computer can actually win such an encounter, but it will have an important impact on computer shogi, exposing the main weaknesses of the top programs.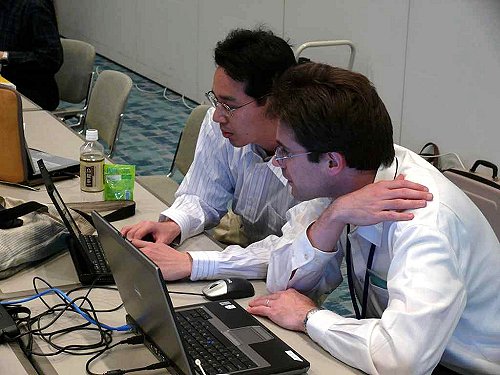 Yamashita showing me the ropes.
As for me, I think the main benefit of completely rebuilding Spear is that the program is now fundamentally sound. Because of the solid foundations I can spent time on improving the structure on top of that without wondering if the complete program will collapse at some point. The current program is quite fast (around 1,000,000 nodes per second), but at the moment it runs only on a single processor. This year all programs in the final round ran on a parallel machine with most of them running on 8 processors (only TACOS had been unable to get the parallel search working). Parallelising Spear is a high priority to improve my chances of finally making it to the final. Other improvements concern the evaluation function (which is very simple), opening play (which is very primitive) and perhaps learning of evaluation function parameters (these are hand tuned at the moment which is a tedious process). If I can significantly improve my program in these three areas before the 2008 tournament, I think I will have a good shot at making my first appearance in the final. Last year this seemed to be unthinkable, but this year it suddenly seems within reach. However, at the moment of writing there is less than eleven months to go before the 2008 World Computer Shogi Championships and because of a large backlog in work I have not done any programming yet.
As for Shotest, Jeff had reversed the drop in ranking over the last 2 CSA events Shotest competed in. Shotest back in 1998 and 1999 had reached 3rd place, but between 2002 to 2006 had received relatively limited advancement and gradually declined in ranking. Part of this was Jeff's diversion into establishing the company AI Factory, and also that Shotest had been designed around development libraries that would not run under Windows 2000 or XP. This year Shotest was finally shoe-horned into the modern architecture created for AI Factory's engines and immediately this opened up Shotest for new development. This only really manifested in the last couple of weeks before the event, but allowed enough time for some bugs that were there for some 10 years to be fixed. This offers very good prospects for next year, as now Shotest can make use of the advanced tools made available, so there is little to block future progress.
One other activity at the event was the showcase of a product by AI Factory; a new commercial Shogi program that I am also significantly contributing to. This provides a Shogi program with an impressive graphics engine and a teaching system. It was on show at the end of day 2 and attracted much more interest than we expected. An admiring crowd gathered around. Although not planned, a journalist took pictures, which appeared on blogs just 30 minutes after we showed it. One of these pictures also appeared in Shogi Sekai, although with no caption. Expect to see this product sometime soon!
A game from the finals

[Black "YSS"]
[White "Tanase Shogi"]
1.P7g-7f 2.P8c-8d 3.P5g-5f 4.P8d-8e 5.B8h-7g 6.P5c-5d 7.R2h-8h 8.S7a-6b 9.S7i-6h 10.P3c-3d
11.K5i-4h 12.S6b-5c 13.K4h-3h 14.K5a-4b 15.G6i-5h 16.B2bx7g+ 17.N8ix7g 18.G6a-5b 19.K3h-2h
20.K4b-3c 21.S3i-3h 22.K3c-2b 23.P1g-1f 24.S3a-3b 25.P1f-1e 26.P4c-4d 27.P4g-4f 28.G5b-4c
29.P3g-3f 30.P7c-7d 31.P2g-2f 32.N2a-3c 33.S3h-2g 34.S5c-6d 35.P6g-6f 36.N8a-7c 37.G4i-3h
38.P5d-5e 39.P6f-6e 40.N7cx6e 41.N7gx6e 42.P5ex5f 43.R8h-8i 44.B*5e 45.N6e-5c+ 46.B5ex4f
47.G3h-3g 48.B4fx3g+ 49.N2ix3g 50.G4cx5c 51.N*4f 52.S3b-4c 53.B*6a 54.N*4e 55.S2g-3h
56.N4ex3g+ 57.K2hx3g 58.N*6f 59.G5h-4g 60.N6f-7h+ 61.N4fx3d 62.S4cx3d 63.B6ax3d+ 64.+N7hx8i
65.P*5d 66.G5cx5d 67.K3g-2h 68.R*6i 69.S*5i 70.P5f-5g+ 71.G4gx5g 72.P*3g 73.S3h-4g 74.N*4e
75.N*3e 76.G*2d 77.+B3dx2d 78.P2cx2d 79.G*2c 80.K2b-2a 81.B*4c 82.B*3b 83.B4c-3d+ 84.B3bx2c
85.N3ex2c+ 86.G*3b 87.G5g-4f 88.P*5h 89.B*4c 90.G5d-5c 91.B4cx3b+ 92.G4ax3b 93.+N2cx3b
94.R8bx3b 95.G*2c 96.P5hx5i+ 97.G2cx3b 98.K2ax3b 99.G*2c 100.K3b-3a 101.G4fx4e 102.R6ix6h+
103.P*5h 104.B*4i?? (Here there is a rather long mate after 105.+Rx5h Sx5h B*3i etc.) 
105.N*4c 106.K3a-2a 107.R*3a  108.Resigns

[Black "Bonanza"]
[White "YSS"]
1.P7g-7f 2.P3c-3d 3.P6g-6f 4.B2b-3c 5.S7i-6h 6.S3a-4b 7.S6h-6g 8.P8c-8d 9.R2h-6h 10.S7a-6b
11.K5i-4h 12.G4a-3b 13.K4h-3h 14.K5a-4a 15.L1i-1h 16.G6a-5b 17.K3h-2h 18.K4a-3a 19.B8h-7g
20.P4c-4d 21.K2h-1i 22.S4b-4c 23.S3i-2h 24.K3a-2b 25.G4i-3i 26.P1c-1d 27.G6i-5h 28.P1d-1e
29.S6g-5f 30.P8d-8e 31.G5h-4h 32.P5c-5d 33.P4g-4f 34.S6b-5c 35.G4h-3h 36.P7c-7d 37.P6f-6e
38.P8e-8f 39.P8gx8f 40.P4d-4e 41.P4fx4e 42.B3cx7g+ 43.N8ix7g 44.R8bx8f 45.P6e-6d 46.S5cx6d
47.R6h-4h 48.G5b-4b 49.P*8b 50.N8a-7c 51.P4e-4d 52.S4c-5b 53.P*6e 54.S6d-5c 55.B*9e 56.R8f-8c
57.P8b-8a+ 58.B*6f 59.S5f-4e 60.B6fx5g+ 61.+P8ax9a 62.P9c-9d 63.B9ex7c+ 64.R8cx7c 65.N*2f
66.K2b-3a 67.R4h-8h 68.P*8d 69.N2fx3d 70.G4b-4a 71.L*5i 72.+B5g-3e 73.S4ex5d 74.S5cx5d 
75.L5ix5d 76.P*5c 77.S*6b 78.R7c-8c 79.S6bx5c+ 80.S5bx5c 81.L5dx5c+ 82.+B3ex3d 83.R8h-4h
84.S*5g 85.P4d-4c+ 86.S5gx4h+ 87.P*4b 88.G3bx4c 89.P4bx4a+ 90.K3a-2b 91.S*3a 92.K2b-1c
93.G3ix4h 94.G4cx5c 95.S*2b 96.K1c-2d 97.S2bx2a+ 98.L*4c 99.P*4g 100.N*5f 101.N*3f 102.K2d-3e
103.G4h-5g 104.R*5i 105.G*4f 106.K3e-2e 107.G4fx5f 108.P*5e 109.P2g-2f 110.K2e-1d 111.P1g-1f
112.P1ex1f 113.P*1e 114.K1dx1e 115.+S2ax1a 116.B*4i 117.G3h-3i 118.S*3h 119.G3ix3h 120.B4ix3h+
121.N*2g 122.+B3hx2g 123.S2hx2g 124.N*1g 125.B*4b 126.P*3c 127.B4bx3c+ 128.+B3dx3c 129.L1hx1g
130.P1fx1g+ 131.P*1f 132.+P1gx1f 133.S2gx1f 134.K1ex1f 135.S*2h 136.B*3h 137.Resigns

Reijer Grimbergen: June 2007