Press Release: Move it! ™ for Android - September 22nd 2010
"What is nice about Move it! is that it looks simple and not intimidating,
but is actually really challenging. An excellent puzzle game!"
Yasushi Tanase (4 times world champion for computer Shogi)
"If you think you've already played the best block puzzle games on your smartphone, wait until you've played Move It!"
review by Arnold Zafra android-apps.com
"Sliding, sorting, shuffling and shifting blocks actually proves to be a pleasant diversion
from many of the other available gaming apps on the various marketplaces"
review by James Woodcock
"It's all about the puzzles and the puzzles are good....
In conclusion, this is a solid puzzle game that is a nice addition to the Android Market"
review by Alstar MeandMyDroid
"Today I will tell you something that will definitely change your life. In a better way, of course.
Al Factory Limited is happy to present you a breathtaking puzzle game of the "future"."
review by Kim Zalewski, AndroidTrek
"I like to think I'm pretty decent at puzzles, but some of these definitely had me sweating"
review by AppSafari
"If you have a few minutes, or few hours to spare, and are looking for something challenging,
yet fun, this is a great solution to end your boredom!"
review by Jerad DiPane AndroidCentral
"For the die hard puzzle fanatics who love a challenge, this game will not disappoint."
review by Vincent Messina Androidrundown
"Colorful game environment, a lot of game levels to conquer, and challenging puzzles,
of course, characterized by how well this game is... A bright, ambitious and fun spin-off"
review by Android Mobile Reviews
This is a press release article describing AI Factory's new Android App "Move it!™" (also released for iPhone and Antix). We welcome review articles.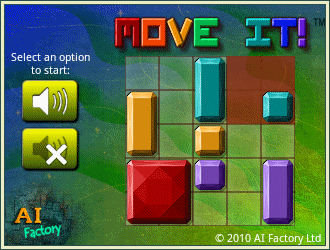 Move it! is a brand new block sliding puzzle game for Android - not just another Rush Hour/Traffic Jam/Unblock me clone, but a fresh new approach to take block puzzles to a whole new level.
Unlike the plethora of similar block sliding clones (almost all based on Yoshigahara's famous Rush Hour puzzle), Move it! provides a much richer variety of shapes that can move freely, not just in restricted planes.
The end product is a very natural game of great depth and variety, very well suited to the new generation of touch-screen devices. Depending on level, it can be either a quick casual game or very challenging puzzle.
The key to this new game is the development of deep puzzles. Unlike many conventional AI games and puzzles, deep puzzle creation is very hard and therefore good puzzles are relatively rare.
The Move it! solution!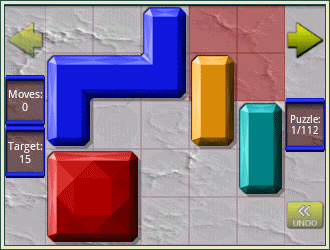 This is where Move it! steps in. AI Factory have combined their award-winning AI with unique technology to solve deep puzzle creation and open the way to creating whole new genres of challenging puzzles.
Move it! also has a built-in helper that can offer hints during your play. Move it! looks for the best solution to match the moves you have already made and then suggests the next few moves from that position.
The current Move it! engine supports hundreds of elegant hand-crafted puzzles at various levels of difficulty and, with the current and coming versions of the game combined, will have over 700 puzzles to choose from.
---
Move it! in Japan
AI Factory took Move it! to the World Computer Shogi Championships in Tokyo, where we were entering our own Shogi program Shotest.
| | | |
| --- | --- | --- |
| | | |
| The many times World Champion Yasushi Tanase taking on a new puzzle variant, but in this case unable to solve the puzzle! | | Genki Yamada playing Move it! Yamada was also competing in the World Championships. |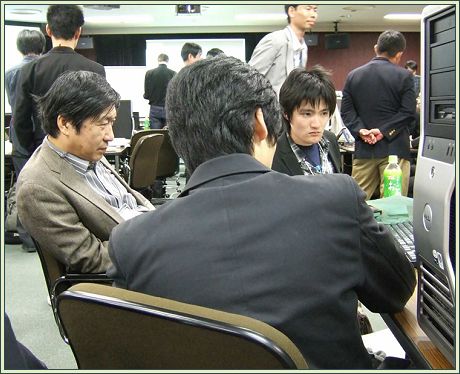 Between rounds Move it! was wheeled out for people to have a look at and was quickly a big distraction at this very busy event, as people gathered around trying to solve the puzzles. Japan is the home of Yoshigahara's puzzles so its nature was quickly recognised and it was very clearly an instant hit. The tendency for people to try and solve this in groups drew our attention that it could also be an effective Wii game, which encourages shared play.
Among those taking an interest in Move it! was Professor Kotani (left of photo) who is considered the expert in puzzle solving in Japanese Academic circles and is the natural custodian of the Yoshigahara legacy. He was watching solving and did not get an opportunity to directly try the puzzles, but did express appreciation for the game.
While in Japan, Move it! was also tested with some very young children where the game was a surprise big hit . A 6-year old happily played through multiple simple puzzles one after the other. Even a 4-year old had a good go!
Move it! in South Korea
AI Factory also took Move it! and related puzzles to South Korea where on two nights play-testing for age range 15 to 45, in 5 hour continuous play sessions, that overran 2 hours until 2.00am. This mirrored our experience in Japan where there were always 3 or 4 people solving the puzzle as a group activity. The combined play was not just measured and analytical but actually very noisy and enthusiastic with everyone talking at once and much competition to get control over the machine it was being played on. This very much emphasised that Move it! is not just a solitary puzzle-solving activity but also a great family game.
---
Move it! on other platforms
Move it! is now launched on Android. Optime Software have also released their own version of Move it! for the iPhone/iPad and Spark Plug Games will be converting Move it! to run on their generic cross platform to allow it to migrate to XBLA, PSN, WiiWare and DSiWare.
Puzzles to follow Move it!
We already have an advanced puzzle in the genre of Move it! in play testing and expect to have this on release for the iPhone at around the start of August. Watch this space!
Jeff Rollason - CEO and co-founder of AI Factory Ltd
3rd August 2010
Reviews and Links
Move it! review James Woodcock
Move it! review Android Central